History
Burlington Beach Catamaran Club (BBCC) Hobie Fleet 441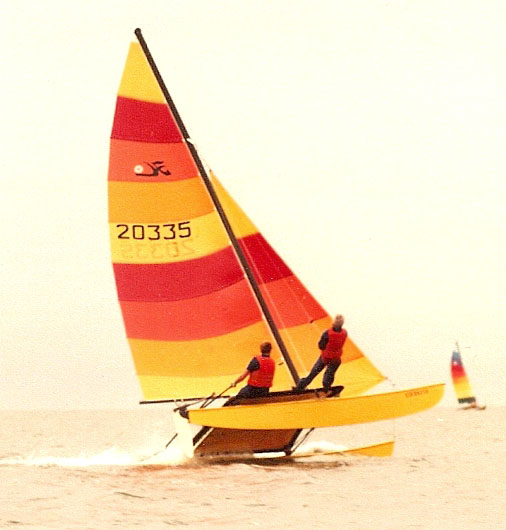 The Burlington Beach Catamaran Club was started over 40 years ago by Chris Walker and Al Bowles. Both lived on the beach strip and through some good fortune came together to start a great club.
In 1979, Chris purchased his first Hobie Catamaran from a college friend who had lost the passion of flying a Cat. With some TLC the boat was ready for the water and Chris trailered his boat to the Spenser ramp (located where Spenser's restaurant is today) and headed out for a day of sailing. After sailing a few hours, he saw a catamaran on the beach shoreline pulled up next to it. Al immediately came down to the shoreline and excitedly suggested Chris keep his boat anchored next to Al's Cougar catamaran.
Within weeks, more cat sailors appeared and the thoughts of starting a catamaran club began to germinate. With the help of the City of Burlington our formal club was then born, duly registered with Coast Catamaran (Hobie Cat Manufacturer) as Hobie Fleet 441 and a recognized Division 16 member of the Ontario Hobie Cat Association (OHCA).
After a couple of years, with a lot of help from OHCA and the support of the City of Burlington, the BBCC hosted its first Annual Regatta. The Regatta attracted 12 boats with a beach start as seen in the Hamilton Spectator picture below. A great first event. Within a couple of years word spread and the BBCC Annual Regatta had close to 100 boats attending its Annual Regattas.
Over the years, new events were added including club racing, joint sailing with other local sailing clubs and a long distance sail to Port Dalhousie (90 km round trip). The club continued to work closely with the City of Burlington and a compound for the club was built. Many City Councilors have attended our regattas and taken the opportunity to take flight in a cat.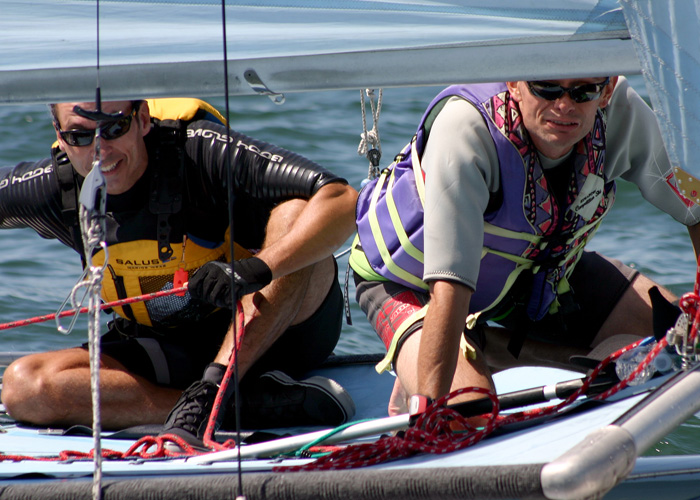 Today the BBCC is stronger than ever. The Fleet has grown to include numerous catamaran fleets (Hobie, Nacra, Dart, Tornado's, A-Cats to name a few) with several members having won championships within the Ontario Catamaran Racing Association and have also raced internationally. Our racing series has expanded to both Wednesday nights and Sunday afternoons and our Annual Regatta is a regular annual event in the Ontario Catamaran Racing Association (ORCA) racing series. Catamaran racers have come to Burlington to participate in our Annual Regatta from across Canada and the United States and during 2015, BBCC hosted the North American F17 Championships. The club continues to sail to Port Dalhousie (weather permitting) and holds joint events with both Hamilton Sailing and Boating Club and Burlington Sailing and Boating Club.